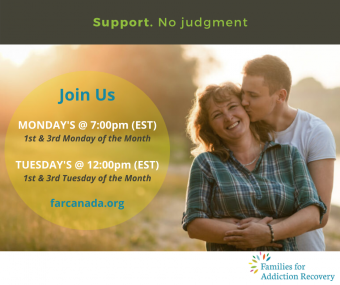 In response to COVID-19 and an increased need for support resources, Families for Addiction Recovery has moved it's parent support groups online. We provide a safe virtual space where those  concerned about a loved-one's substance use can discuss practical strategies, find support, and share resources and information that worked for them. Participation in the Groups is free and no registration is required. This group uses the principles of Community Reinforcement and Family Training (CRAFT), Motivational Interviewing (MI) and Acceptance and Commitment Therapy (ACT). It is facilitated by a parent with lived experience, who also holds a B.A. in Psychology and an Addiction Care Worker diploma.
Monthly Meetings:
1st and 3rd Monday @   7:00 – 8:30pm EST
1st and 3rd Tuesday @ 12:00 – 1:30pm EST
Please note: Monday meetings which fall on a holiday will be held the following Tuesday at 7:00pm. If you would like to receive a confidential meeting reminder for your digital calendar contact us.
Join us via video conference or call into a meeting
Please click the "Join online" link for the date you wish to attend (located in the calendar below) and you will be prompted to allow the video conferencing tool to access your device's camera and microphone, please accept.
Please mute your microphone during the meeting unless speaking.
To join our meetings without using video simply dial the number call in number and when prompted enter the PIN code followed by the # sign.
" We have been to a number of groups for support through this five year journey with our son who , while still struggling, is now working with us, his wife and family rather than being in complete denial . We have found that the  FAR group and the family members who have participated have, through their own experience, provided my wife and I with the tools to better communicate with each other, our son and equally as importantly his wife, to focus on the path forward.

This "journey" requires, love, faith, hope and above all patience  and although we cannot control the outcome we have found that the power of influence is far greater than the power of control and for that we are thankful to FAR"

For more information about FAR's Online Parent Support Groups please call Sophy at 1-855-377-6677 ext 204.