In an effort to support our community during the COVID-19 pandemic, we have gathered information and resources relative to coronavirus and substance use disorder (SUD) including online assistance and support. Please continue to visit us here and on our Facebook Page for additional information and resources.
The Bad News
The COVID-19 pandemic is having a devastating impact on our community. BC lost 170 people to overdose in May, the highest number on record for any month. It exceeded all BC deaths at that time from COVID-19. Ontario has seen a 25% increase in overdoses.
Increased risks and harms to those with SUD caused by the pandemic include:
increased toxicity in the unregulated drug market increasing the risk of overdose
COVID-19 risks to those responding to an overdose making it difficult to fully assist
an increased risk of acquiring the virus in congregate settings (homeless shelters, prisons and jails) and an inability to physically distance when acquiring illegal substances
an increased risk of having a severe case of the virus from smoking or from opioid use disorder and the medications for it
physical distancing resulting in less access to supports and services such as safe consumption sites, physicians, counsellors, group support, detox or residential treatment beds
self-isolation resulting in loneliness, anxiety or depression
inability to self-isolate and obtain daily dispensed medications for opioid use disorder
The Good News
The good news is that our governments and the health care community have acted swiftly to minimize many risks while allowing for physical distancing and self-isolation. FAR and many others will be advocating to keep many of these changes after the pandemic.
Click any bullet link below to jump straight to the section:
National Overdose Response Service (NORS)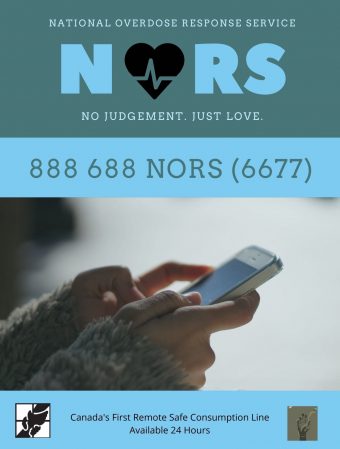 Canada's first remote safe consumption line.
NORS is an overdose prevention hotline for Canadians providing loving, confidential, nonjudgmental support for you, whenever and wherever you use drugs. Available 24 hours
Canada: 1-888-688-NORS (6677)
USA (Never Use Alone): 1-800-484-3731
For more information see NORS; what you need to know
Responding to an Overdose During COVID-19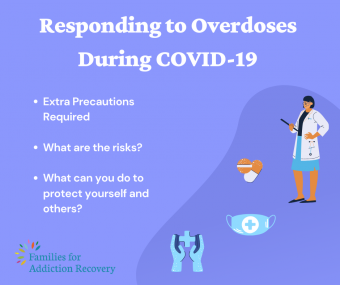 Extra precautions must be taken when responding to an overdose during COVID-19. Your willingness to take risks in responding to an overdose may depend on who is overdosing, a family member, friend or someone you don't know. Make sure you have a couple Naloxone kits (injectable Naloxone is preferable to nasal Naloxone) and that you keep a couple face masks with your Naloxone kits. This flyer sets out the risks and guidelines on how to respond.
Access to Naloxone
Some provinces/territories provide both injectable and nasal Naloxone free of charge in pharmacies, others provide just injectable Naloxone for free and some provide neither for free.
This chart illustrates which types of Naloxone are available free of charge in pharmacies in each province/territory.
Access to Medical Care and Medications
The pandemic has changed how medical care is being delivered in Canada. Doctors can now provide healthcare over the phone or internet (telehealth) to facilitate physical distancing, self-isolation and quarantine required during the pandemic.
This applies to people using suboxone, methadone, or other medications to treat opioid use disorder. Doctors now have more options available in providing care. Treatment for SUD and medications to treat it are essential services. Doctors cannot refuse to treat someone if they have to self-isolate or quarantine. In addition to meeting patients over the phone or internet, other options include:
fewer urine drug tests
increased carries to reduce visits to the pharmacy
changing medication from methadone to suboxone
changing medication from suboxone to longer acting Sublocade (monthly injections) or Probuphine (6-month implantable rods)
having pharmacies deliver medications to patients (see below)
These extra options are available because of new guidelines issued to doctors serving patients with SUD during COVID-19. The BC Guidelines were issued by the BC Centre on Substance Use. The Ontario Guidelines were issued by CAMH, META:PHI and the OMA. Similar Guidelines for the United States were issued by The American Society for Addiction Medicine. These guidelines can be referred to in the event that a doctor is not aware of these additional options.
These changes may occur for anyone on these medications but especially if they are in isolation. People may need to isolate themselves for 14 days if they have travelled outside of the country, if they have been in contact with someone who is known to have COVID-19, or if they have symptoms of COVID-19. When people are self-isolating, they cannot leave their house except to walk outside keeping a 2 metre (6 foot) distance from others. They cannot have visitors, visit grocery stores, pharmacies or doctors' offices. They can connect via computer with family, friends and peer supports.
Anyone on opioid medications who gets COVID-19 should tell their doctors that they are using these medications. Methadone especially does not combine well with some of the medications being used to treat COVID-19. COVID-19 can cause heart problems. People using intravenous drugs are at higher risk of developing serious heart complications than others.
In March, 2020, The BC Centre on Substance Use issued clinical guidance for health care providers to prescribe pharmaceutical alternatives to illegal opioids, stimulants and benzodiazepines during the pandemic. The guidelines, Risk Mitigation in the Context of Dual Public Health Emergencies, are not intended for treatment of SUDs but rather to support individuals with SUDs to self-isolate or social distance and avoid risk to themselves or others during the pandemic.
Extended Role of Pharmacies during COVID-19
Health Canada has temporarily amended our laws during the pandemic to ensure those needing medications can get them even if they have to self-isolate or are in quarantine. While the details vary slightly from province to province, generally pharmacists can now:
extend and renew prescriptions
accept a verbal prescription from a physician
transfer a prescription to another pharmacy
allow pharmacy employees to deliver controlled substances prescribed for opioid dependency to patients
Details for each province can be found here.
Alcohol Sales: An Essential Service
The Canadian Centre on Substance Use and Addiction (CCSA) released a report Open versus Closed: The Risks Associated with Retail Liquor Stores during COVID-19 setting out the pros and cons of alcohol sales being an essential service during the COVID-19 pandemic. If someone with a severe alcohol use disorder does not have access to alcohol, they will go in to withdrawal and could die. The CCSA concluded:
"Continuous access to alcohol can be a question of life or death for people with severe alcohol use disorder. For them, retail liquor stores are an "essential service" that is necessary for their safety."
Advocacy for Decriminalization and a Safer Supply
When it comes to COVID-19, our governments have been following the advice of our public health officials. Unfortunately, the same is not true of the opioid overdose epidemic, declared an emergency in BC in 2016.
Among other things, criminalizing people for drug use prevents them from reaching out for help. In 2018, the Toronto Board of Health adopted the recommendations of the Toronto Medical Officer of Health in A Public Health Approach to Drug Policy to request the federal government to decriminalize the possession of drugs for personal use and to create a task force to look at the regulation of all drugs. The Canadian Mental Health Association also issued Care not Corrections in 2018 supporting decriminalization. In 2019, the BC Chief Medical Officer of Health issued Stopping The Harm: Decriminalization Of People Who Use Drugs In BC requesting decriminalization. BC's Chief Coroner has joined the chorus of health officials requesting decriminalization.
The City of Ottawa called on the federal and Ontario governments to fund more safer supply initiatives. In June, 2020 with the overdose epidemic worsening in a number of provinces, the Toronto Board of Health adopted the recommendations in the Toronto Overdose Action Plan: Status Report 2020 from the Toronto Medical Officer of Health, renewing the request to the federal government to decriminalize, at least during the pandemic, and to fund a safer supply of opioids for those who are dependent.
FAR supported these recommendations in a deputation before the Board.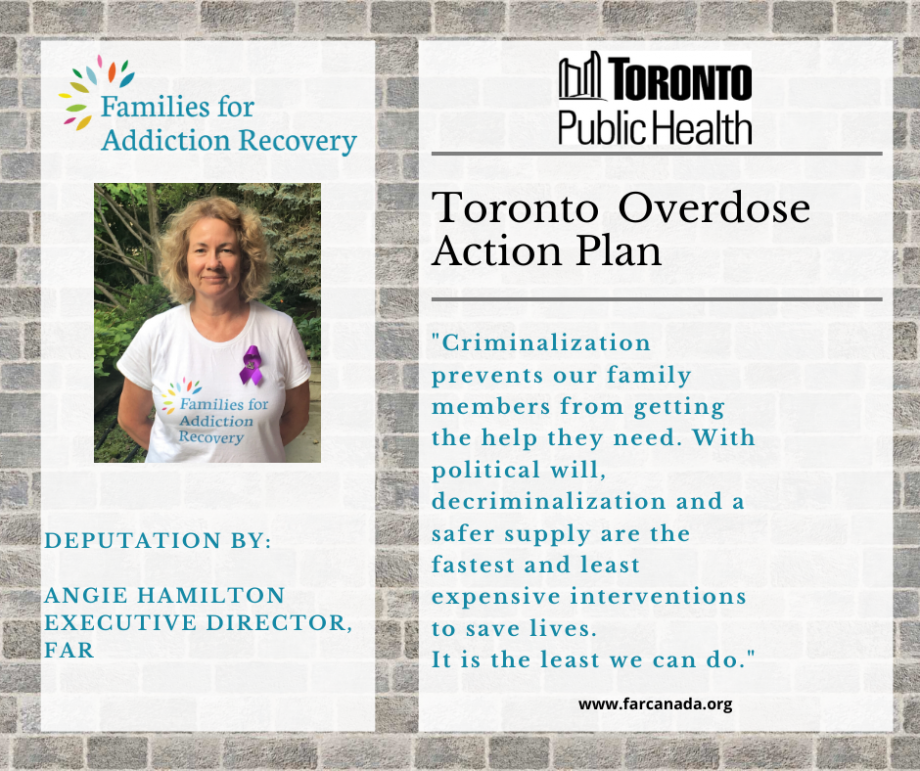 Hopefully, if these changes to drug policy are implemented by the federal government during the COVID-19 pandemic, they will remain in place when the pandemic is over. FAR will continue to advocate for these crucial changes to our harmful drug policies.
Advocacy For Naloxone Access During Air Travel
On April 14, 2020 FAR Executive Director, Angie Hamilton, contacted the Minister of Transport regarding the use of and access to naloxone during travel. The Ministers response can be viewed here.
The department has issued detailed guidance to the Canadian aviation industry for management of passengers and crew during the COVID-19 pandemic. Updates to transportation related measures taken by Transport Canada in response to the evolving novel Coronavirus disease (COVID-19) can be reviewed here. For travel advice and all other updates, please visit Canada.ca/coronavirus.
Resources For Families
Families for Addiction Recovery
Center for Motivation and Change: Foundation for Change
Partnership for Drug Free Kids
CHA Caring for Others with Addiction During a Time of Uncertainty and Social Distancing
Starlings Community – Through knowledge mobilization, advocacy, and peer support, Starlings Community aims to decrease internalized shame and increase hope in individuals impacted by the stress and stigma of a parent's substance use.
Download a FREE guide to support the wellbeing of youth and adults impacted by a parent's drug or alcohol use.
Resources For People Who Use Drugs Or Alcohol
Safer drinking tips during COVID-19  (Canadian Institute for Substance Use Research)
COVID-19 and cannabis smoking and vaping  (The Canadian Centre on Substance Use and Addiction)
Safer Drug Use During the COVID-19 Outbreak (Harm Reduction Coalition)
COVID-19 Harm Reduction Tips  (Toronto Public Health)
COVID-19 Resources for People who use Drugs (BC Centre on Substance Use)
COVID-19 Harm Reduction Resources (Canadian Drug Policy Coalition)
Grenfell Ministries runs an Overdose Prevention Line (1-888-853-8542) for persons who are going to use drugs in Ontario. A person will stay on the phone and contact 911 in the event of an overdose.
Resources For People In Recovery
COVID-19 Resources for People in Recovery (BC Centre on Substance Use)
Online Meetings, Programs and Support

12 Step Meetings:
Other Online Meetings and Recovery Communities:

https://www.intherooms.com/home/
https://www.smartrecovery.org/
https://www.soberrecovery.com/
https://www.cannabisrehab.org/
https://hams.cc/ (oriented towards alcohol users)
https://unityrecovery.org/digital-recovery-meetings
ALT Recovery Vancouver (a hub for Non-12 Step Recovery Meetings)
APPS:

https://otn.ca/providers/substance-use/
https://www.breakingfreeonline.ca/ Choose sign up and use code CAPSA2020
Resources For Anxiety, Depression and Stress
ONTARIO RESOURCES
In the GTA: 211 Central
or call 211 or text 21166 to 211
This service provides access to a wide range of services for GTA residents including:
Abuse and assault, child and family services, community programs, emergency and crisis services, employment and training, government and legal, healthcare, homelessness, housing, income support, indigenous people, mental health and addictions, newcomers, older adults, transportation, youth and women's shelters, in multiple languages.
Bounce Back (Canadian Mental Health Association)
A guided self-help program that uses workbooks with online videos and phone coaching support.
CANADIAN RESOURCES

Centre for Addiction and Mental Health COVID-19 resource hub
CAMH has a free, constantly updated, resource hub for COVID. It includes valuable tips on managing anxiety, depression and the stress of social isolation.
Canadian Government Sites 
Wellness Together Canada – a Canadian government site that offers wellness self-assessment and tracking, self guided courses, apps, and other resources, group coaching and community of support and counselling by text or phone.
Taking care of your mental and physical health during the COVID-19 pandemic
For the most up-to-date information regarding Covid-19 in Canada and Public Health measures visit: The Public Health Agency – Government of Canada
A non profit site offering free online self-help and evidence-based resources on anxiety.
Depression and Bipolar Support Alliance – offers free online support groups
Wellness & Emotional Support for Youth Online (WES) – Wellness and Emotional Support for Youth On-Line is a self referral service which provides free professional one on one on-going counselling sessions for youth suffering with mental health and addictions issues. through both email or live chat.
UNITED STATES RESOURCES

Anxiety and Depression Association of America – an American site offering free online support groups
Shine – a community started by Mental Health America for dealing with stress and anxiety
Psych Hub – an online mental health learning and support centre