Families for Addiction Recovery has launched a phone support line in response to growing demand for our services. You will be connected to one of our volunteers trained in Community Reinforcement Family Training (CRAFT), Motivational Interviewing (MI) and Acceptance and Commitment Therapy (ACT) who understands those who have a loved one struggling with substance use and are looking for support.
Call us Free from anywhere in Canada
Monday to Friday Noon – 3:00pm EDT
Wednesday Evenings 7:00pm – 9:00pm EDT
(855) 377-6677 Ext. 207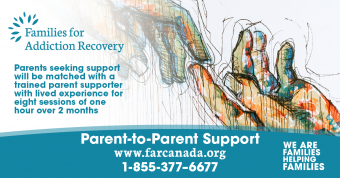 This new support service complements our P2P Program and Online Support Groups.